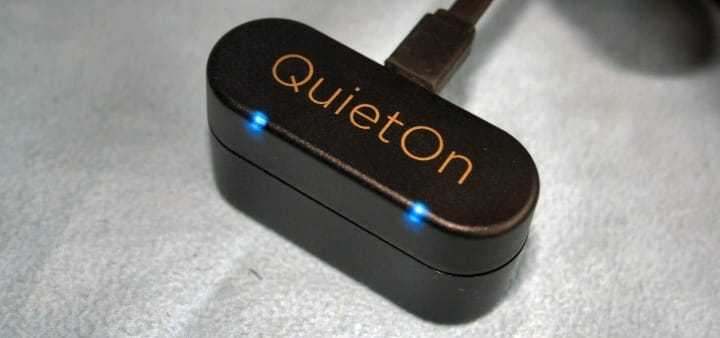 Getting a good night's sleep isn't always easy in the best of circumstances, but I know that when your partner snores, it's nearly impossible. While there are a variety of solutions on the market for the person snoring, there are not many solutions for the non-snorer beyond earplugs, which just seem to muffle the noise.
QuietOn Active Noise-Cancelling Earplugs use a sophisticated microphone and speaker return technology to cancel out the low-frequency noises like snoring that keep you awake, so now you and your bed partner can get a good night's sleep.
What Are QuietOn Earbuds?
These earplugs are designed specifically for sleep and noise cancellation. They are engineered and optimized to filter out low-frequency noises, and yes, that means snoring. The technology is really quite interesting. The earbuds are built with a tiny microphone, which, when a low-frequency sound is detected, replays back a sound that specifically cancels it out.
The earbuds have a quiet and hearing mode, which you can toggle between on the mode button on the earbud. To ensure you are in quiet mode in a silent room, snap your fingers next to your ears to ensure you cannot hear the sound. If you can hear it, you're in the wrong mode for sleeping.
QuietOn Sleep earbuds arrive in a protective case, which also doubles as a charger. I was particularly impressed by this, as it just simplifies the whole process of my morning routine. I just plug the case into a USB charger, and little lights come on to let me know that it is charging. After about an hour, they shut off, and my earbuds are ready to use for up to 20 hours of continuous use.
How Do I Size Them?
Your QuietOn order will come with three sizes of disposable earbud tips in small, medium, and large. The mediums are attached as a default, but with a quick squeeze and twist, you can take them off and try one of the other sizes. For me, I needed to move down to a small size for my ears. The earbuds need to be airtight, and the mediums just weren't fitting my ear canals properly.
To find out if they are airtight, firmly push them into your ear, and turn them backward until they sit comfortably and firmly in your ear. This took me a few tries, but I soon got the hang of it.
QuietOn has replacement packages of each size of ear tips on their website. Each package comes with three pairs and costs $19.
Low-Frequency Noise
QuietOn targets the low-frequency noise caused by snoring and other activity in an urban environment. Unfortunately, while traditional earplugs and earbuds block out high-frequency noises, the low-frequency sounds are muffled and not canceled out. Low-frequency noises are the primary culprits of sleep disturbance.
These noises fall anywhere in the range of 10-200hz and can be natural or artificial.
Whether it be in the waking hours or during sleep, low-frequency noise is said to cause extreme distress in those who are sensitive to it. Low-frequency noise is, quite literally, noise pollution. So whether it is a snoring partner disrupting your body's rhythms and natural sleep cycles, or long hours spent traveling for work, it is important to take the necessary precautions against low-frequency noises.
What If I Don't Like My Earbuds?
If you're unhappy with your QuietOn Sleep earbuds, you can contact customer service and return them within 14 days. As per their return policy, the earbuds must be unused, undamaged, and fully functioning. Customer service will send you a packing slip and return form to include with your earbuds.
However, I think you will enjoy your earbuds enough to keep them. They have worked wonders for me when I am sleeping or trying to get work done in a noisy space. I also did not need much time to get used to them. Once I fitted my ear tips properly, I barely felt the earbuds in my ears anymore.
Value for Money  
QuietOn earbuds typically cost $219, but for a limited time are on sale for $169 before the cost of shipping. While more expensive than some other brands of earplugs their numerous features and effectiveness make them worth the price.
Their portability and design make them practical for everyday use. They are easy to charge and use. There are no wires to get tangled in, and no unnecessary connectivity technology such as Bluetooth to worry about learning to use. While the price tag seems high, it's worth it to just plug in your earbuds and go to sleep.
Warranty
For those in the United States and countries outside of the EU, QuietOn offers a 1-year warranty on the earbuds to protect you from faulty technology or workmanship. If you are in the EU, you have a 2-year warranty. The warranty applies to the earbuds and charger, not to the ear tips.
Package Options
QuietOn offers three package options, depending on your needs. The single earbud package is for the individual consumer, while the couple's package is designed for couples who want to cancel out any snoring noises while they sleep. The family package includes four sets of QuietOn earbuds and chargers, which make excellent gifts for friends and family.
Because QuietOn earbuds use advanced noise-canceling technology, they make the perfect gift for anyone who needs to focus while working. For friends and family members who travel frequently, or who work in a noisy office, these earbuds can help them focus and be more productive and efficient.
Final Thoughts
While QuietOn Sleep earbuds do not solve the problems of snoring, they do solve the problem of listening to your partner snore. They also filter out ambient low-frequency noises, which can keep you awake or make you toss and turn. I recommend QuietOn Sleep earbuds to anyone who is looking to change their sleep by creating a peaceful quiet right in their own ears. Check out QuietOn Sleep earbuds today and see how the technology can transform your sleep.